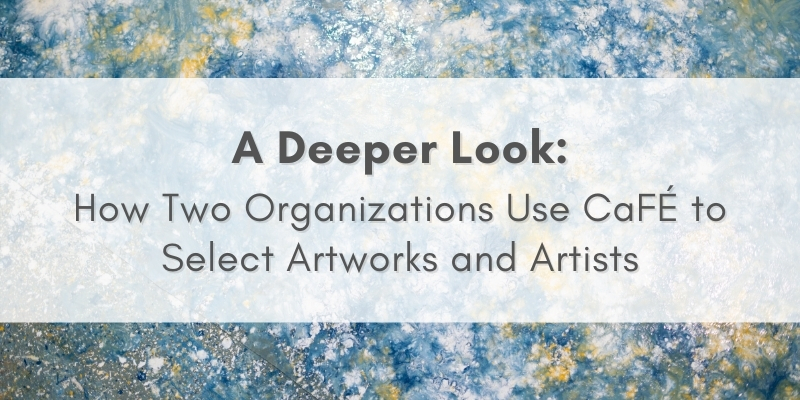 The versatility of CaFÉ is apparent through the several different types of calls for entry that are listed on the site at any given time. Exhibitions, public art projects, grants, and residences are just a few of the many call types used. Since each type requires its own setup for collecting submissions, CaFÉ allows organizations to customize their call listing and build an application that fits their needs. In this blog post, we will explore how two organizations, The Billboard Creative and PlatteForum, use CaFÉ for completely different kinds of projects. We'll examine the information included in each prospectus and the differences in how the applications are set up. By looking at these two calls, we'll be able to see how organizations successfully use CaFÉ to conduct the submission and selection process.
The Billboard Creative Exhibition
The first call for entry we will be taking a look into was hosted by The Billboard Creative, which has been using CaFÉ since 2015. According to its website, The Billboard Creative (TBC) is a non-profit organization that turns billboards into public art sites to help raise the profile of emerging and underrepresented artists within the arts community. Every year, TBC hosts an open call for entry for artists to submit their work to be displayed on one of 30 billboards placed in high-traffic areas of Los Angeles, California.
Their latest call for entry, The 7th Annual Billboard Creative Exhibition, was open on CaFÉ from September to December of 2020. Artists from all over the world were eligible to submit up to 20 images in any art medium. After the review process, 30 artists were selected to have their work displayed on billboards for this year's exhibition. Information about each artist is available on The Billboard Creative's website. There is even an interactive map that guides viewers through the show and gives further information about each artist, artwork images, and links to their websites.
A Look at the Prospectus
The 7th Annual Billboard Creative Exhibition call details page included information about the organization, the background of the project, and how artists apply to the call. The prospectus also outlines what selected artists will receive, if chosen. Enticing artists to apply to a call for entry can be challenging given the hundreds of calls listed on CaFÉ, so the Billboard Creative made sure to highlight the success of previous exhibitions.
For example, the call's description starts off by stating, "artwork in TBC's shows, which include curated selections from emerging, mid-career, under-appreciated, as well as established artists, has been passed by cars more than 67 million times and appeared in the Los Angeles Times, Flaunt Magazine, the Huffington Post, NPR/KCRW's Art Talk, Creators Project, and L'Oeil de la Photographie among numerous other publications." Describing the benefits of being selected is a good way to encourage talented artists to spend their time—and often money—applying to the call.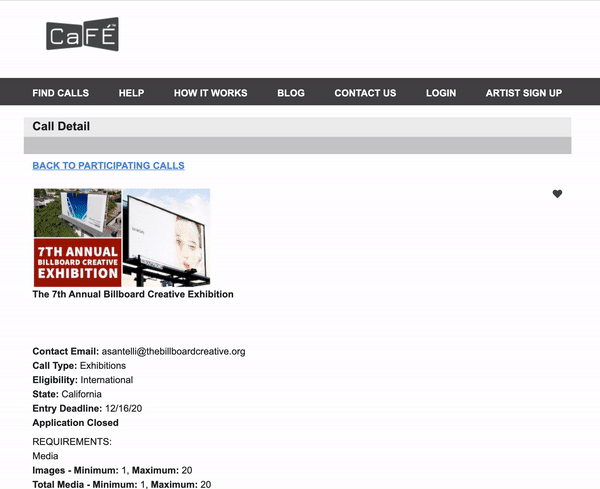 Call Detail page for the 7th Annual Billboard Creative Exhibition, listed on callforentry.org
In addition to outlining what the artists can expect if invited to participate, the prospectus also specifies the eligibility criteria. The description reads:
"Open to artists from all countries."
"We accept many forms of art – if you can get it on a digital file* we can put it on a billboard. There are great examples of paintings, sculptures, mix media etc. on the gallery page. *(Sorry, we still aren't accepting video or audio works at this time.)."
"Everyone is eligible – if you are under 18 you must have a parent or legal guardian submit your work.
Clearly defining the eligibility ensures there is no confusion as to who can apply and what kinds of artwork mediums are accepted. Finally, the call details page includes a link to the organization's website for prospective applicants to view more information.
As you'll see in the following section, The 7th Annual Billboard Creative Exhibition's prospectus does not include information about what will be required in the application portion of the call for entry process. This is because the call was not set up to require anything from artists other than the artwork images themselves.
A Look at the Application
The application for The Billboard Creative's call for entry was simple; it only required artists to submit images of their work. No application questions were asked—the artist simply had to choose anywhere from one to 20 images from their portfolio to submit. Each of these images, when submitted, would then be separated into individual entries so the juror could score and select the specific artwork for the exhibition.
This application setup is common for calls in CaFÉ where only the artwork itself is being considered for the exhibition or event. Since CaFÉ collects the artist's name and contact information when they create their profile, the organization hosting the event does not need to ask for it. This also applies to the artwork—the artist already enters the artwork title, medium, dimensions, price, and other details when uploading the image, video, or audio file to their CaFÉ portfolio. Therefore, all that The Billboard Creative had to do was determine how many images they wanted to allow artists to submit to their call.
A Look at the Selection Process and Final Exhibition
The Billboard Creative kept their call for entry open for about three months, which gave plenty of time for artists to apply with images of their artwork. According to the call details page and the organization's website, curator Victoria Burns conducted the review and selected 30 artists for the exhibition. On March 8, 2021, the Billboard Creative announced the list of artists and presented an interactive map that shows the location and artwork for each billboard. The map also provides the artists' biographies, artwork statements, and links to the artists' websites. Artwork will start being displayed on the billboards on April 5, 2021, and the exhibition will run until April 30, 2021. Learn more about the exhibition and The Billboard Creative by visiting www.thebillboardcreative.com/2021-show.
PlatteForum Resident Artist Program
While exhibitions make up the majority, it's only one of the many types of calls for entry hosted on CaFÉ. Another call type that is used frequently is residencies. In contrast to exhibitions, artist in residence programs require a much more in-depth application process. One organization that uses CaFÉ to collect applications for its artist-in-residence program is PlatteForum.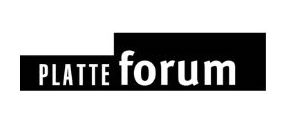 Photo courtesy of PlatteForum.
PlatteForum is an urban art and activism laboratory founded in 2002 where, according to its website, "established artists work side by side with young artists to create a body of work that is reflective of a global voice." The nonprofit is located in Denver, Colo., and runs several programs, including its Resident Artist Program. The program is designed to give artists support to create new work and participate in the local art community. Part of the residency includes leading workshops and collaborating with interns of PlatteForum's ArtLab program. Since 2018, PlatteForum has used CaFÉ to collect applications from prospective resident artists.
Their latest call for entry, 2021/2022 PlatteForum Resident Artist Application, opened at the end of January 2021 and closed in March 2021. The application was open to any artist regardless of location, discipline, or medium. Applicants would be considered for five to eight-week time slots throughout 2021 and 2022. After the selection process, invited artists will be announced in June 2021. More information about the program and video testimonials from past resident artists can be found on the PlatteForum's Resident Artist Program website.
A Look at the Prospectus
Compared to The Billboard Creative's call for artwork, PlatteForum's call for artists required a more extensive application process for artists. In addition to introducing applicants to the organization, the first portion of its prospectus outlined the goals and parameters of the Resident Artist Program. This information included the schedule of each resident's time slots, what is expected of them if selected, and the benefits of participating in the program. PlatteForum also made sure to include the following information about the organization's mission:
"As an artist community, PlatteForum supports the creation and presentation of new art and ideas by contemporary artists. By supporting working artists, PlatteForum generates dialogue in the larger community about the role of the artist and social justice in society. Located in a rich urban context, PlatteForum's dynamic, artist-centered residences are built upon the notion of engaging the broader community in the creation of new work, where artists, youth, and the public collaborate. Each resident artist becomes a catalyst for innovative and expanded thinking about what art is and can be."
Much like TBC's call, the main objective of the PlatteForum's call details page is to encourage artists to apply. Describing the goals of the organization in the context of its broader community helps potential applicants trust that the program is worth pursuing.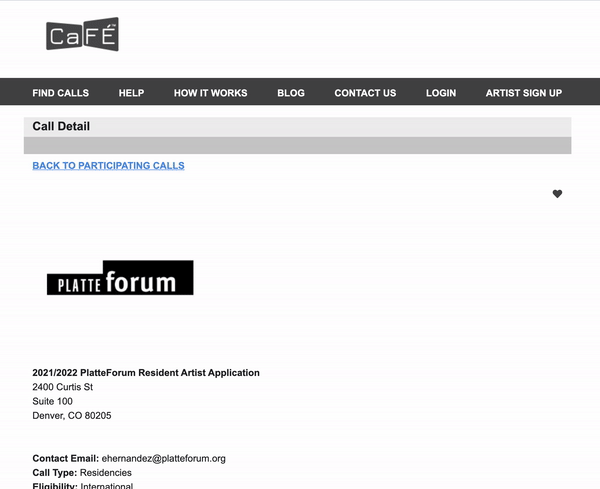 Call Detail page for the 2021/2022 PlatteForum Resident Artist Application, listed on callforentry.org
Another objective of PlatteForum's prospectus, as we saw in The Billboard Creative exhibition, is to ensure each applicant understands what will be required of them in the application itself by specifying the materials that will be required. In this case, however, the resident artist application requires more than just work samples. For example, the call details page lists each supplemental material the artists must submit: an artist statement, a community engagement statement, a resume, and up to 10 work samples. In addition to listing these materials, there is a description for what the selection committee wants to see for each item. Listing and describing the expectations is essential to ensuring each applicant prepares and submits everything correctly.
The final portion of the prospectus explains what the applicant will receive if selected. This includes stipend amounts, facilities and housing details, and additional information about community involvement during the program. The call details page then concludes with testimonials from past resident artists to show further examples of why artists should apply to the program.
A Look at the Application
Since the 2021/2022 PlatteForum Resident Artist Application required artists to submit more than just images of their artwork, the organization used CaFÉ's question builder to collect the supplemental material. CaFÉ has several question types that allow for different types of information to be gathered. For example, PlatteForum set up text-box style questions where artists could type in their community engagement statement, a drop-down menu style question to select their preferred time slot, and a file-upload style question to upload their resume. PlatteForum also activated the Artist Statement option, which is a pre-built question in CaFÉ's application editor that easily allows the organization to collect artist statements. Recognizing not all artists use visual formats, there was an additional question to give writers and poets a chance to upload their work samples as a PDF file instead of adding images in the work samples section.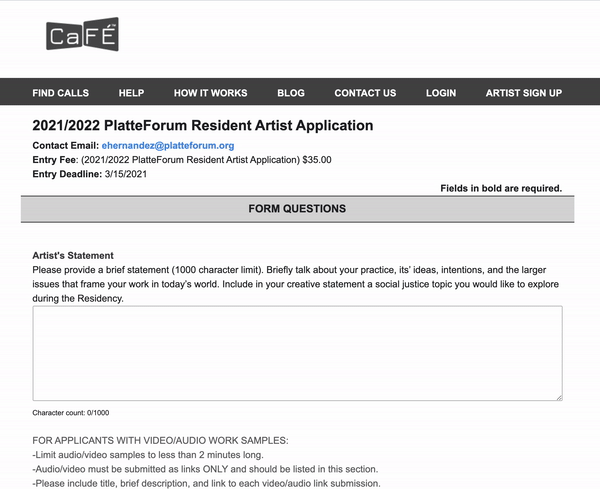 Application for the 2021/2022 PlatteForum Resident Artist Application on callforentry.org
Speaking of work samples, PlatteForum set up its call to allow each artist to submit up to ten images. Unlike The Billboard Creative's call for entry, these 10 images would be grouped together so the selection committee could view all the images at once and select artists based on their entire body of work.
A Look at the Selection Process and Resident Artist Program
The 2021/2022 PlatteForum Resident Artist Application was open on CaFÉ for almost two months and closed in March 2021. According to the prospectus, an interdisciplinary selection committee will consider applications for the residencies and artists will be notified of their acceptance into the program by June 2021. Information about previously selected and upcoming resident artists can be found on the Resident Artist website, which includes a biography of each artist, a link to their website, the dates of their residency, and the opening date of their exhibition.
Create Better Calls with CaFÉ
Looking closer into how The Billboard Creative and PlatteForum set up and administered their calls for entry, we can see how CaFÉ can be used by many different types of organizations for various purposes. With a streamlined and customizable application builder—in addition to an online adjudication system—CaFÉ has the tools you need. Looking to use CaFÉ's all-in-one submission management and adjudication tool for your organization? Schedule a demo today!
Written by Communications Coordinator Justine Chapel