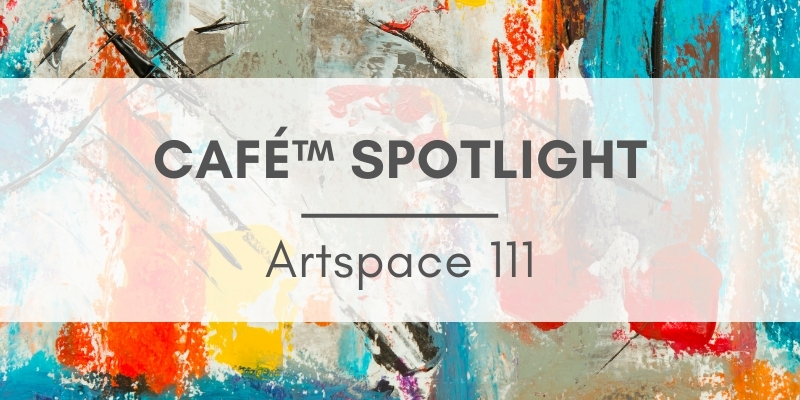 CaFÉ Spotlight: Artspace 111
This month, we are shining our CaFÉ Spotlight on Artspace 111 and its success in hosting its annual juried exhibition on CaFÉ. Artspace 111 is a dynamic contemporary art gallery located in Fort Worth, Texas. It showcases artists working in a variety of media and displays several exhibitions per year. Artspace 111 signed up for CaFÉ in 2014 to host the inaugural Annual Texas Juried Exhibition. Now in the exhibition's eighth year, CaFÉ is proud to be the chosen platform for connecting artists with this phenomenal opportunity celebrating the talent of Texas artists.
We spoke with Artspace 111's marketing coordinator, Natalie Baldin, about the exhibition and how CaFÉ has helped them continue this event every year.
Tell us a little bit about your exhibition, the 8th annual Artspace111 Texas Juried Exhibition.
In February of 2021, Artspace 111 announced an open call for submissions for the 8th Annual Artspace111 Texas Juried Exhibition, juried by Caleb Bell, curator at the Tyler Museum of Art. Every year, the competition calls for 2D and 3D artwork created by artists living and working in the state of Texas, and eligible pieces are selected by the juror. A total of $5,000 is awarded, and the "Best In Show" prize includes a cash award of $2,000 and the opportunity to exhibit at Artspace111 in a separate solo or group exhibition in 2021-2022.
On May 24, 2021, the call on CaFÉ closed, and Artspace111 was delighted to see that over 2,000 works were submitted! Out of these 2,000 works, Caleb Bell chose 46 pieces he felt reflected Contemporary Texas Art. The in-gallery exhibition will be open from July 10 until August 28, 2021. Artspace111 will also be holding an Online exhibition titled "Texas Now" that will have ALL of the submitted works published and available for collection. This online exhibition will include not only the works from the in-gallery show but the rest of the 2,000 artworks that the juror did not choose.
Photos courtesy of Artspace 111, 8th Annual Artspace111 Texas Juried Exhibition.
Artspace111 acknowledges that artists work endlessly for their craft and every penny counts. The gallery holds the online 'Texas Now' showcase to create an opportunity for all artists who graciously applied! Also, $5 from each submission was donated to the Tarrant Area Food Bank. We are delighted to announce that Artspace111 was able to donate over $3,000 to this nonprofit that is helping fight hunger in our area!
Why did you choose to use CaFÉ for your call to artists?
Artspace111 chose CaFÉ for its convenience and ability to reach artists all over our great state of Texas! We love how quick it is for artists to create a profile and submit work. We want to be as accessible as we can. 
How has the application management system freed up your time to do other exciting and important work? Do you have an example?
The application management system has given us the ability to devote more time to Texas Art Collectors. It's not enough just to show amazing works of art—art needs to sell! It's an artist's job to create, and it's the gallery's job to promote and find the perfect home for artwork. With the efficient and user-friendly application management system, we can focus our attention on taking an artist's hard work and finding someone to collect it and cherish it. 
Your exhibition is also displayed virtually on your website. Have you always had a virtual component to your exhibitions? As many art organizations shifted to virtual spaces during the pandemic, was that the case for ArtSpace 111?
We have artworks from every exhibition available for collection through Artspace111.com. The pandemic made the gallery shift gears to focus more creative energy on our online platforms. We are constantly finding ourselves updating images on our website, posting works that are available on Instagram and Facebook, and putting a huge emphasis on the quality of content we share. CaFÉ has created an opportunity for us to keep ourselves digitally organized and supported the significance of artwork having an "agreeable digital appearance." In 2021, great works of art are only great if you can submit a high-quality detailed photograph. 
Are there any special projects or calls you are looking forward to in the future?
We are thankful to be active members of the Fort Worth community. Right now, we are focusing on creating projects downtown. Nothing is confirmed at the moment, but when it is, you can bet artists will use CaFÉ to submit works! 
The best way to stay up to date on all things Contemporary Texas Art is to follow @Artspace111 on Instagram and Facebook! You can also join our mailing list by scrolling to the bottom of the home page of our website: www.Artspace111.com. #LoveTexasArt
Written by Communications Coordinator Justine Chapel