STORIES OF CREATIVE CONNECTION
The Galesburg Community Arts Bridges its Community and Beyond with Art
The Galesburg Community Arts Center is a small but influential arts organization serving a four to five-county region in rural west-central Illinois. Founded in 1923 as the Galesburg Civic Art League (later changing its public name to the Galesburg Community Arts Center), the center connects its community to the arts through exhibitions, community events, and an artist residency program, among other art-making programs. Since 2018, the center has been using CaFÉ to host its annual GALEX National Juried Competition & Exhibition, and collect applications for its Studios Midwest Artist Residency program.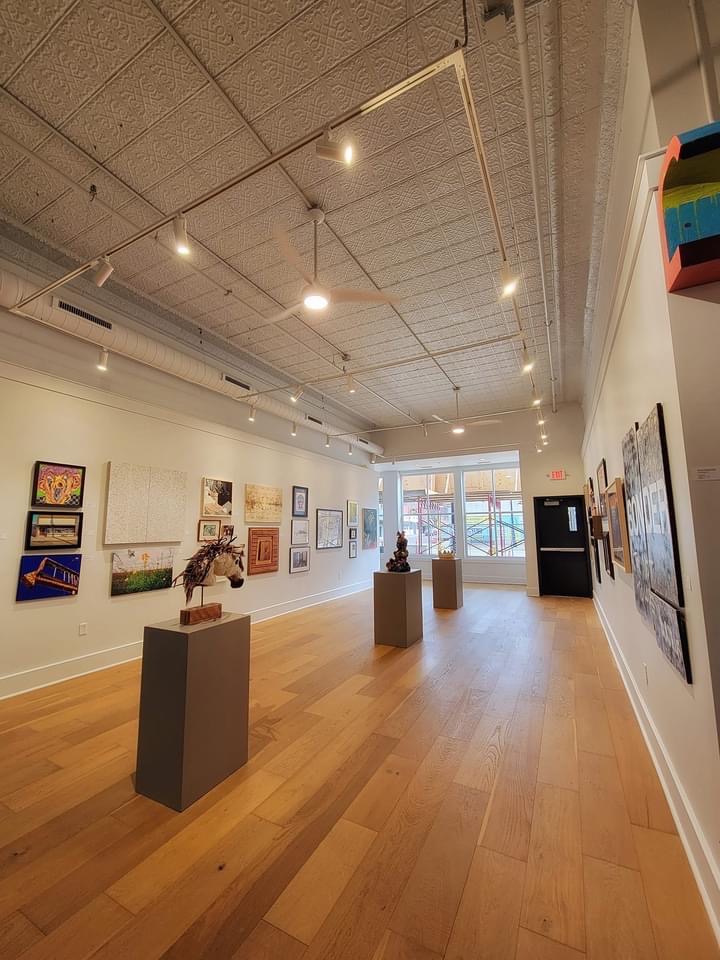 A Life-Changing Solution for an Overwhelming Problem
Tuesday Çetin is the executive director of the Galesburg Community Arts Center, and prior to using CaFÉ, had been spending considerable time manually processing a high volume of entries for the annual GALEX National Juried Competition & Exhibition. This problem was only exacerbated in 2017 when an exceptionally popular juror led to the center receiving 300-400 entries. Çetin's workload became unmanageable due to the manual handling of those applications, and concerns were raised about the sustainability of future exhibitions. The center recognized the need for a solution to streamline the application process and save precious time.
Çetin first heard about CaFÉ from another nearby art center that had already experienced its benefits. Eager to simplify their workflow, the center decided to explore CaFÉ as a potential solution. "When I demoed with CaFÉ," Çetin recalled, "I was like, 'Oh, this could be a life changer!'" Sure enough, the center was able to process applications more efficiently and even doubled the number of entries in the following year. Çetin attributed this success to both CaFÉ's ease of use for artists and being able to get the word out about the call. "Especially for a rural community," said Çetin, "…to get [the call] out beyond that and get amazing entries from all over the country, for us, was truly remarkable and just brought a whole new level of artists to our show." 
Bridging Geographic Gaps in a Rural Community
Being located in a rural community presented challenges for the Galesburg Community Arts Center to connect with artists outside their immediate area. Çetin reflected, "I think about it in two ways: I think about local representation, but I also think about equity and the arts, and 'How are we getting the word out to those artists that are not in our typical communities we communicate with?'" As a result, Çetin gets the word out by sending the call information directly to minority artist organizations and has been looking into subsidizing shipping or travel costs for artists who may have barriers preventing them from traveling to the center. With CaFÉ being a conduit for the organization to expand its reach to artists from different regions, the center continues to bridge geographic gaps and promote a more inclusive and vibrant arts community.
Fostering Artists Exchange for the Next 100 Years
The result of implementing CaFÉ has had a significant impact on the Galesburg Community Arts Center. CaFÉ has freed up time for them to focus on other critical tasks by relieving the administrative burden on the staff. The increased number of entries and the broader audience their exhibition attracts have elevated the center's programming to new heights. As the center celebrates its 100th anniversary in 2023, it's looking forward to the next 100 years with a new building and dedicated classroom space on the horizon. In addition, the center is looking forward to expanding its programs and sustaining its mission of connecting its community through the arts.